What To Expect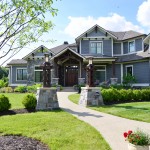 Windows & Doors of Indiana believes in a direct approach. No gimmicks or unusual promises. Our goal is to partner with you in determining the best solution for your window and door needs.
During the initial appointment, our expert installer will rely on you to note your areas of concern. At the same time, he'll look for potential problems not immediately apparent. Our representative will then explain in simple terms the state of your windows and doors, along with the service and replacement options available.
We won't discuss pricing during this visit. We believe if a person can spend just a short amount of time in your home or business, and present you with a price on the spot, a healthy amount of profit is probably built in.
After collecting as much information as possible, Windows & Doors will contact you shortly after the assessment to present a detailed plan with our recommendations.
At Windows & Doors of Indiana, our primary goal is providing you with unmatched service that is delivered with integrity and trust.
To schedule an appointment, click here.